The Work Programme and In-Work Benefits
For primes and sub-contractors success will not be just about helping people get jobs, but helping to keep them there.
The outcome-based payment model depends on finding sustainable job outcomes for clients. Sustainable, in many cases, can mean over two years. Add to that different returns for different groups, and the fact that there are different benefits for different groups, and it poses a real challenge.
It gets worse!
Welfare Reform
We're in the process of introducing an entirely new benefits system with huge changes in the way support for those in work is going to be delivered. We're also in the early stages of cutting £18 Billion pounds a year out of the existing benefits system with all the impact that will have on support for those in and out of work.
And these two systems will run side by side for at least four years!
The chart below shows what will happen to a couple with two children, paying rent of about £85 a week, where, after being out of work for two years, one starts a new job in September 2011.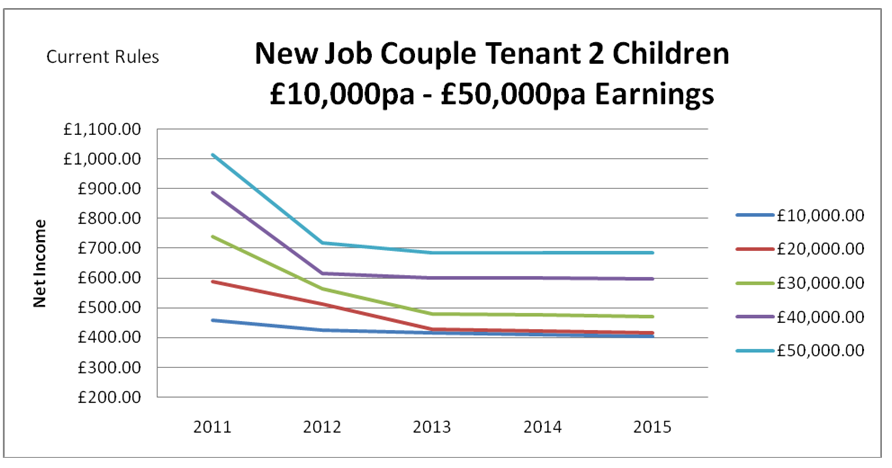 The way in which the current tax and benefits system works means that there will be an initial rate of in-work income, from earnings, tax credits and benefits, which will be higher than they will get next year and that will be higher than they'll get the year after.
The table below shows the amounts, adjusted to today's values for comparison.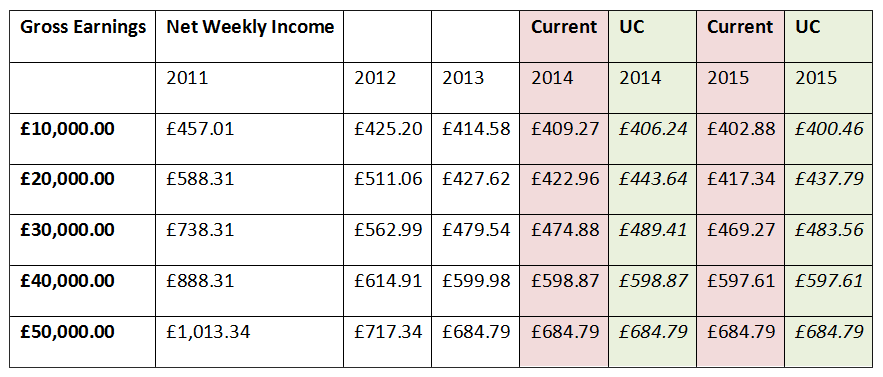 The chart below shows the situation if they move onto Universal Credit.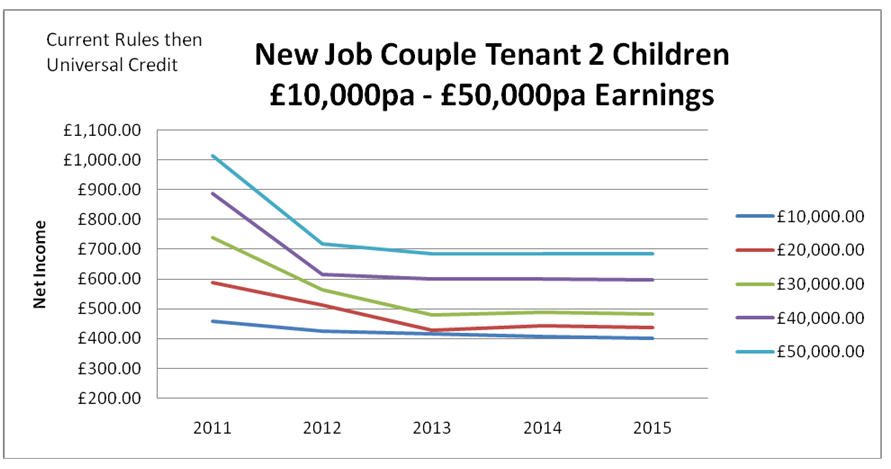 Job Sustainability
The figures show the enormous danger of basing a sustainability assessment on the total net income that this family would get when they start a job. The starting income can be as much as 50% higher than the long term net income level.
Customers and providers need a way to look ahead, confidently, to understand what the situation is going to be in the near term. Understanding, year by year, the already announced changes that will affect them,
The introduction of changes in rates and indexation
The changes in housing support
The introduction of caps to benefits and rents
Changes in childcare support
Changes in hours of work rules
The introduction of Universal Credit.
and many others.
Better Off In-Work
Uniquely, Ferret has adviser systems that can forecast the effect of already announced changes to the benefits system, including Universal Credit, on in-work and other benefits for individual customers. Year on year changes to rules and the effect of predictable, structural, entitlements following entry into work, particularly in tax credits, are all clearly modelled.
We provide customer use systems that can be accessed on desktops, on the web or on kiosks.
Individual or Bulk Assessments and Re-Assessments
Running from your CRM or CMS system you can pass the customer details into an integrated module, or pass it to a Web Services system, for initial assessment or review. You can carry out individual or batch review and re-assessments of customers on changes of rules, rates or circumstances. Every time benefits are uprated or rules change you can re-assess every customer and pass the results back into their records or generate information for them. It includes out of work benefits as well as in-work benefits, tax and NI calculations.
We can do more than that.
E-Learning and Training
We can help train advisors to understand the system and the changes with traditional or e-learning courses.

Other Assessments
For specialist providers, additional plug-ins are available for disability benefits, for integrating social care charging, disabled facilities grants and other relevant assessments. Pilot and local schemes can easily be integrated into some of the systems.
Advanced modelling for the provider
Ferret's model of the future benefits system is used to test effects of announced changes on business cases and customer impacts. The model is being used in effective and innovative ways by numbers of organisations; a large retailer has used it for a number of studies on affordability, looking at the effect of changes on the disposable incomes of the customer profiles while a prominent housing association is using the modelling to assess the affordability of new market rent proposals.
Ferret provided the modelling for Inclusion's much praised report for London Councils on the affordability of living in London under Universal Credit, published in June 2011.
Ferret will work with customers to tailor the modelling to exactly match their needs and to understand the results.
Contact
Please contact
Gareth Morgan
if you would like to discuss how Ferret might be able to help you.