Ferret's eForms for Grants Package
Ferret's PDF forms have been widely adopted since their introduction and we are now proud to be able to extend our support to the sector, even more, with our electronic forms package. Ferret's electronic forms for grants provide an easy-to-use and attractive system that can fit the needs of both staff and customers. An integrated intelligent web form provides the complete full and preliminary applications for a grant, while a customer facing form, simply linked from your website, lets customers see for themselves their possible entitlement to a grant and likely contribution.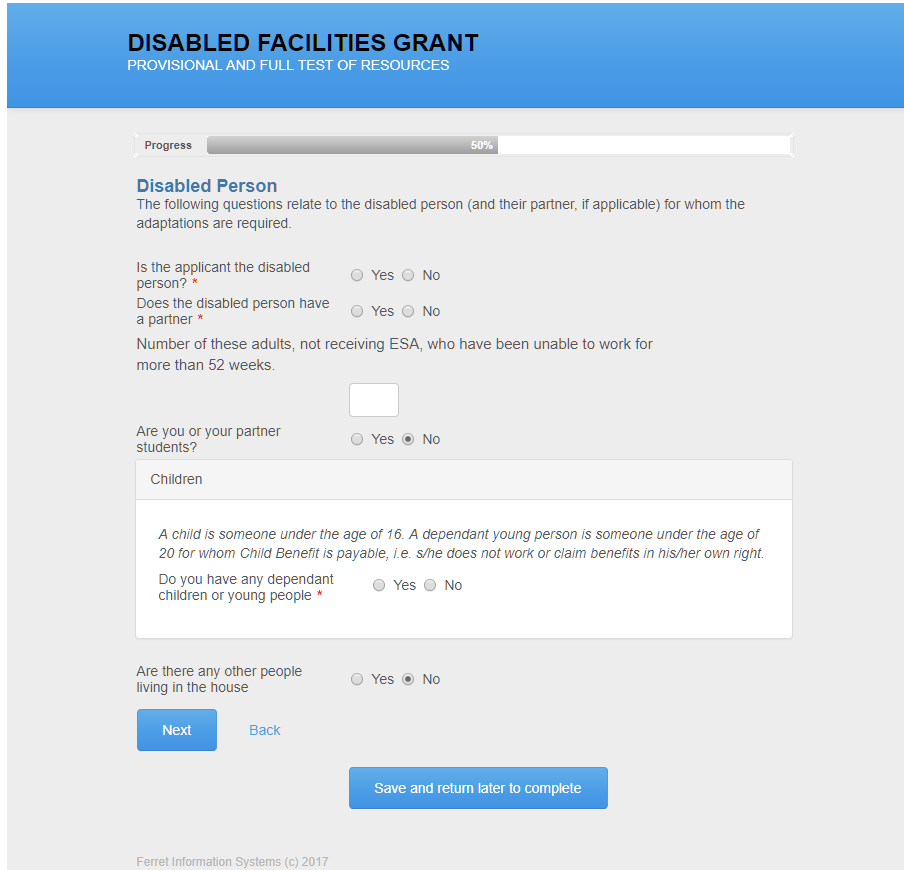 Ferret's grants e-forms are a web-based system which means that the forms can be used in any browser based technologies. Windows, Mac or other desktop systems are able to access the forms in the office but the forms are designed for mobile use by staff with tablets, laptops or even smartphones, whether Apple, Android, Windows or other operating systems. The forms offer an intelligent, integrated interface which bring together the functionality of several different forms from our PDF suite. The ability of the web forms to hide irrelevant questions and sections or to expand to collect more details, or text, where necessary, makes the system smoother and quicker to use. The forms make full use of check boxes, radio buttons and pick lists but allow for full text entry where necessary. The forms can be produced, where required in multiple languages. A Welsh language customer form and email is included for customers in Wales. A form completed in one language can still generate an English language version of the data for official use. Users, whether authority staff or clients, can save a case part way through and return to it later using a secure email/password system. The main form allows for either a preliminary or full application to be made, with alternative signature options, either checkbox or hand-written. With this system, we introduce for the first time, the capability for clients to make an initial, informal, assessment of their likelihood of making a contribution and/or receiving a grant. This form, which can be linked from your own website, collects a simplified, yet comprehensive, set of information which allows an automated estimate to be made and an email showing the details of the likely result to be sent directly to the client.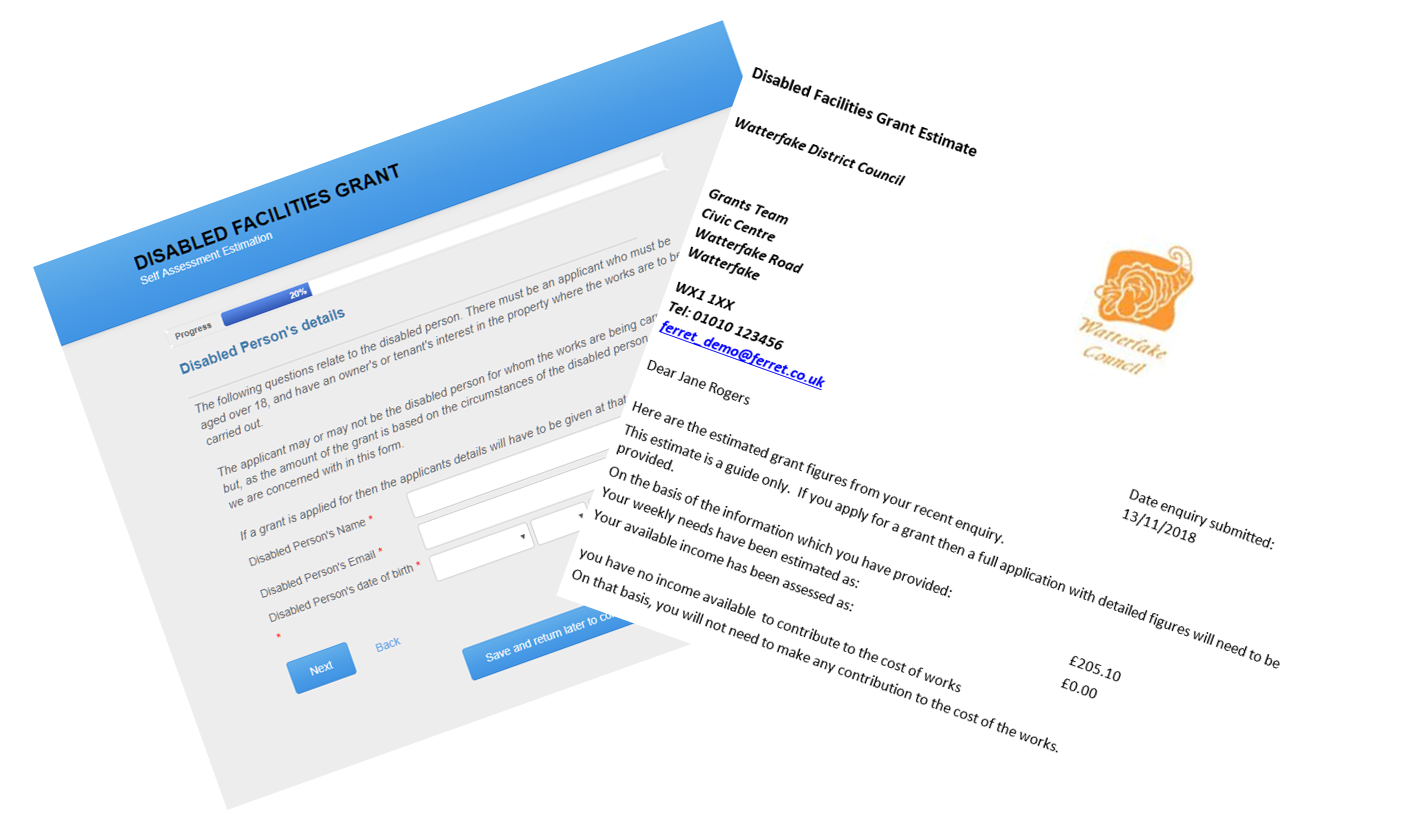 The output from the formal, preliminary or full, application sent directly to the authorities specified email address for this process. If desired, in a preliminary application, an email with the estimated results can also be sent directly to the client's email address. Only the authority receives the output from a full application. A number of different elements from each assessment are sent to the authority. An initial assessment of the likely financial result is sent as a text email.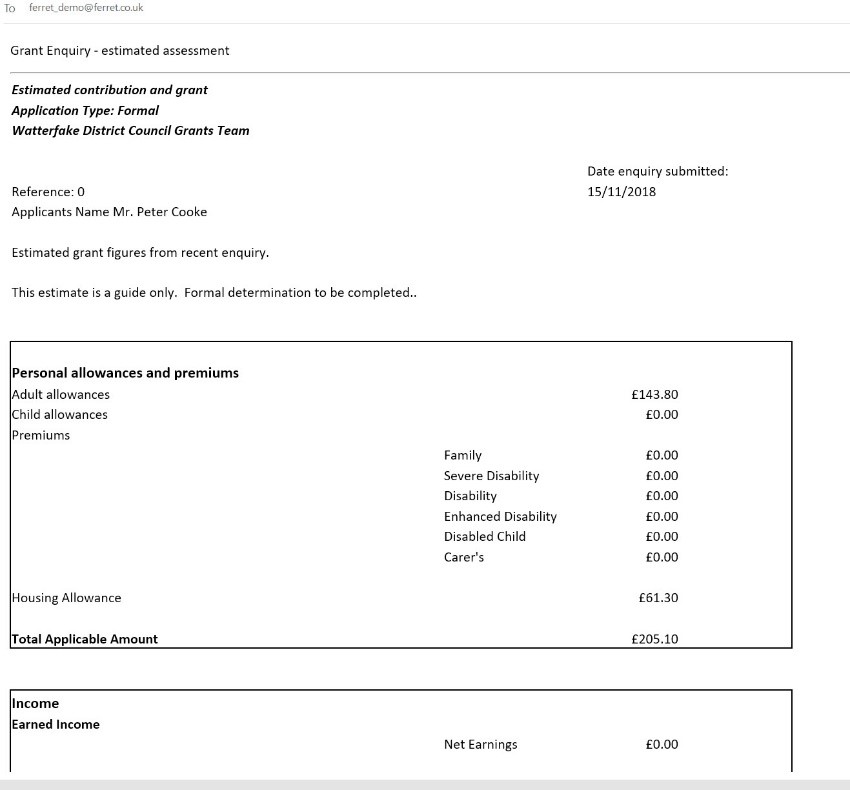 The information entered is also sent in text form, both as a condensed PDF file and in a plain email text, making it easy to print or store in a document management system.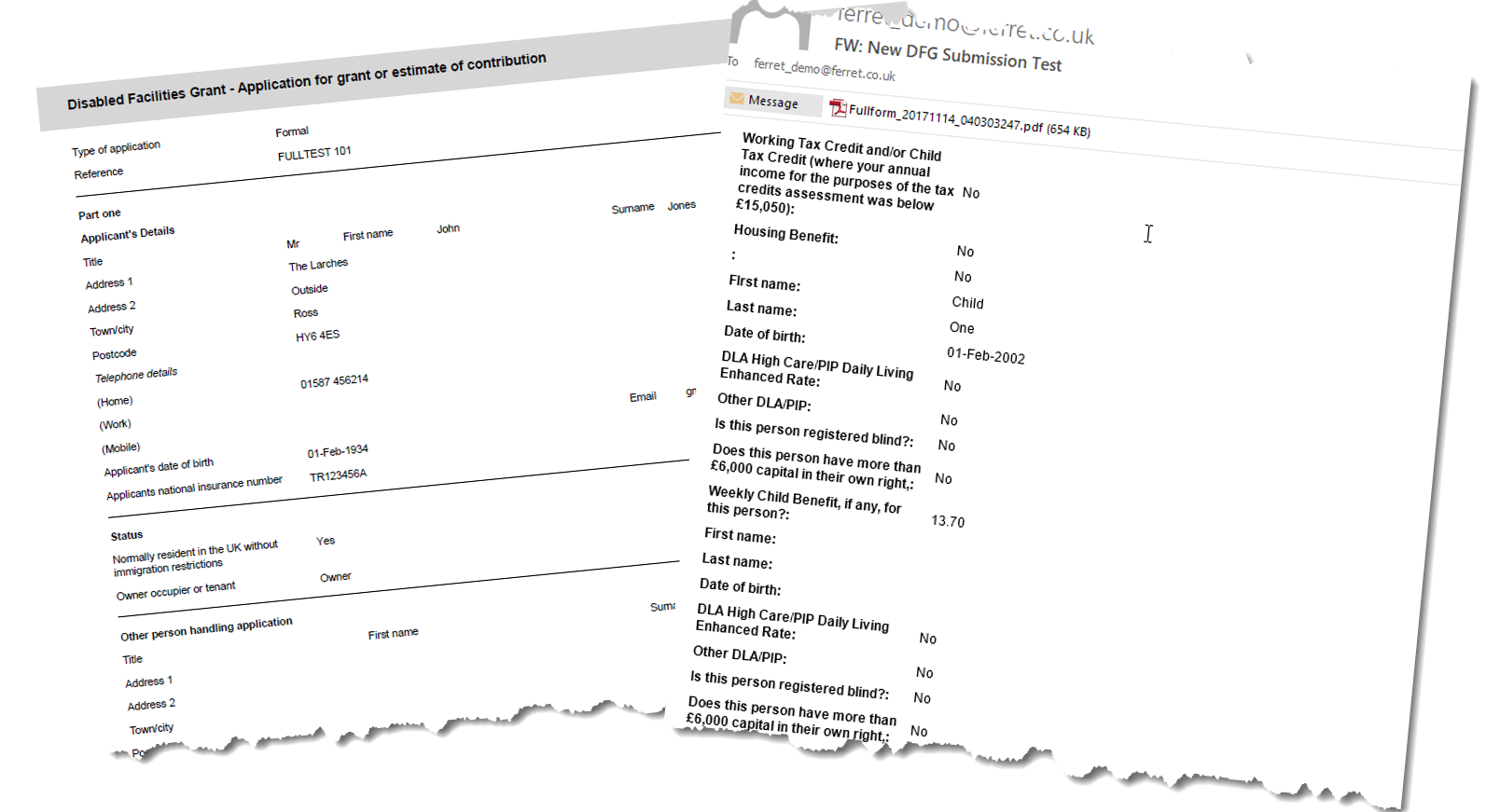 The data is additionally sent in electronic form as a CSV file. This is intended to be able to be imported into, or stored in, case management systems or other administrative applications. The file can be directly opened in Excel, or other common applications, as shown below.

This CSV file can be directly imported and opened in Excel using a Ferret utility provided as part of the system.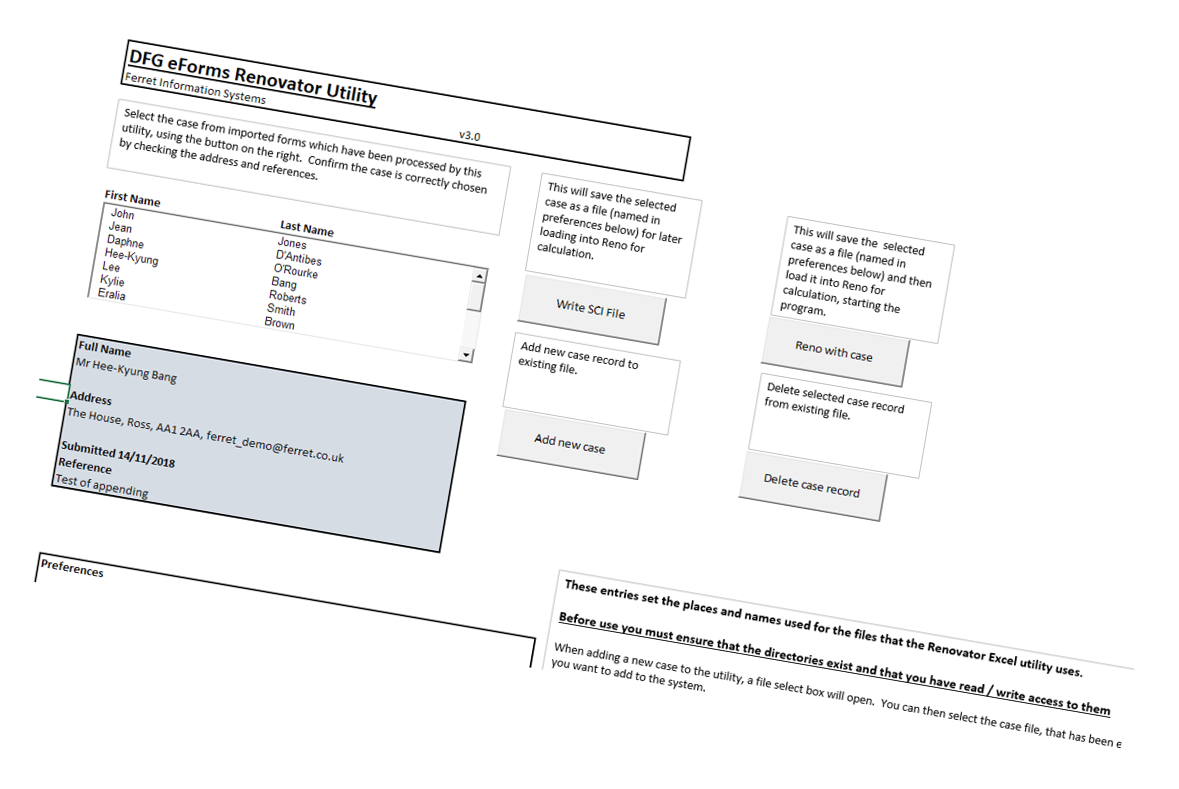 Using this utility it is possible to manage these imported cases and to directly pass the data into Ferrets Renovator programme for recalculation, what-if assessments or later amendment of applications. Although this utility is not intended to provide a case management facility it could, if requested, be extended to provide further capabilities such as statistical analysis. The e-forms are tailored for each authority with logos, addresses and phone numbers and offer various options including which type of e-signature is required.   The coverage of the system is shown below and, although users do not, of course, have to use all of it, it will all be available to them. Our PDF forms suite are listed alongside, in the first column, so that you can see how the eForms map onto those and where we don't think eForms are appropriate.
Forms
Ferret PDF forms suite content
HTML Form
Database storage
Calculated Assessment
Convert database to PDF format
DFG Owners Consent in Occupier Cases.pdf

✔

x

x

x

x

DFG form Authorisation.pdf

✔

x

x

x

x

DFG form Children & Passported Benefits.pdf

✔

✔

✔

✔

✔

DFG Form Combined Part 1 & 2 C&P.pdf

✔

✔

✔

✔

✔

DFG Form Combined Part 1 & 2.pdf

✔

✔

✔

✔

✔

DFG form Employment & Self-employment.pdf

✔

✔

✔

✔

✔

DFG form Part 1.pdf

✔

✔

✔

✔

✔

DFG form Part 2.pdf

✔

✔

✔

✔

✔

DFG Form Provisional Test of Resources.pdf

✔

✔

✔

✔

✔

DFG General Consent Notification.pdf

✔

x

x

x

x

DFG Joint Owners Consent.pdf

✔

x

x

x

x

DFG Landlords Application Form.pdf

✔

x

x

x

x

DFG Landlords Certificate.pdf

✔

x

x

x

x





Assessments
Self-Assessment

x

✔

x

✔

Preliminary

x

✔

✔

✔

Full

x

✔

✔

✔
(The implementation of the separate forms into the web version has allowed us to merge many of them while maintaining the capability of separate use.)
Pricing is based upon the size of the authority, please email
info@ferret.co.uk
for more details. With increasing pressures on local authorities, Care and Repair, and other agencies, introducing integration and administrative simplicity through the use of digital is increasingly important. Bringing together the collection of data and the assessment of entitlement brings many advantages. Smoother, simpler with less scope for error and removing layers of unnecessary administrative tasks, Ferret's eForms can help relieve these pressures. Comprehensive and open data for the local authority is matched with secure and clear data collection. Once the data is securely within the local authority (Ferret never sees it), the standard data structure makes it simple to generate reports and to integrate it with other systems. The links to Ferret's Renovator assessment system, future proof the application for any changes to means testing and assessment. Please ask us for sample forms and more details.
tel: 029 2064 3333
email:
info@ferret.co.uk